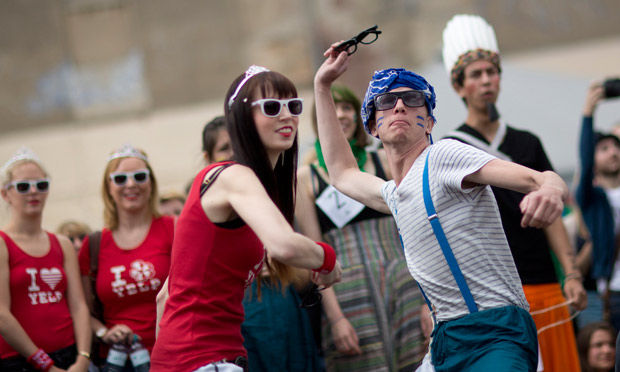 Millennials are still largely living with their parents, according to Pew Research Center study released Wednesday, July 29, 2015. (AP Photo)
Pilar Belendez-DeSha was trying to figure out her next move.
When the financial crisis hit in 2008, she was getting her geography degree at the University of Kentucky, but she did not have a plan.
"All the jobs I was looking at paid really poorly, and I wasn't hearing about anyone getting hired except for internships that paid less than $25,000 a year," said Belendez-DeSha, 30, now a graduate student in New York City. "College wasn't paying off at that time. … And I was kind of freaking out about having a financially sound life."
There was an emerging consensus that so-called millennials — or people who reached young adulthood around the year 2000 — would face tougher financial challenges than their parents' generation. At the same time, Belendez-DeSha saw her father lose money on the stock market and her mother struggle to find a job.
"When you see your parents try to figure things out, everything becomes a little iffy," she said.
Belendez-DeSha is not alone. Many millennials have a pessimistic outlook on their personal finances because of the financial crisis.
According to insurer Northwestern Mutual, 28 percent of millennials are less comfortable taking risks with their finances than they were in 2008 and 71 percent prefer to play it safe with investments, even at the risk of lower returns. Additionally, 62 percent agree that over time there likely will be more financial crises.
"This generation is particularly concerned, confused and maybe even a little distrusting," said personal finance expert Farnoosh Torabi.
Here are five financial tips for millennials who are concerned about their financial future.
TAKE ADVANTAGE OF YOUR AGE
Your youth is one of your biggest assets. Take advantage of your time and energy to make as much money as possible.Not all of your income has to come from one source, said Torabi. You can rent out your apartment via Airbnb, find side gigs at TaskRabbit.com, a tutoring job via tutor.com and discover freelance opportunities at upwork.com.But do not expect to hit pay dirt right away: With a friend, Belendez-DeSha started a small design business that made no money. She was also walking dogs, catering and cooking at various restaurants on the side.
RETHINK REAL ESTATE
During the financial crisis, many parents of millennials thought that real estate was a safe investment. "Property is just like any other investment," said Chantel Bonneau, wealth management adviser at Northwestern Mutual. "Just like buying a stock, it won't always work out."Buy a home because you want to live in it, not because you assume you will make a profit, experts say. Make sure you are not borrowing more than you can pay off.
DIVERSIFY
Every four years, a dip in the financial market is expected, said Bonneau. That is why it is important to diversify your investments. Examples of different assets are permanent life insurance, rental properties, emergency funds, cash holding accounts, primary property and nonretirement investments.SAVE EARLY AND OFTENBad and unexpected things can happen. Spend less than you earn and build an emergency fund to cover three to six months of expenses. Automatically deduct cash from your checking account weekly or monthly to fund the emergency account."The more money you have set aside, the better position you will be in for whatever life throws at you," said Stuart Ritter, senior financial planning analyst at T. Rowe Price.
MAKE A FINANCIAL PLAN
Work on your financial plan. Set goals. What is important to you? Is it having a family or owning property — or both?Track your cash flow with apps like Mint.com or LevelMoney to see what comes in every month and what goes out. That will provide financial clarity.